Nano Balance Technology for nano-level control of material development
Nano-level research and development for rubber material design processes
This proprietary platform technology relates to designing rubber materials based on nanotechnology. By integrating four nano-level elements of research, analysis, design and production into a technology development process, we can achieve optimal performance that precisely reaches required levels.
We believe that reducing energy loss associated with rubber is a key parameter in reducing rolling resistance and our nano-level research and analysis into rubber materials has resulted in validating data. However, nano-material design based on testing and research tends to rely too much on supplied materials so Toyo Tires established nano-level production techniques such as high-precision blending ratio regulation in order to establish a foundation for a tire's environment performance enhancement. This method also supports volume-production.
Nano Balance Technology is the key to developing materials optimized for achieving specific tire performance requirements.
Nano-level research: Discovering the truth
Nano-level analysis: Understanding the mechanism
Analyzing and verifying reactions of observed rubber molecular structures under various movement conditions for forecasting optimum rubber materials.
Molecular dynamics simulation
Suppressing physical movements of rubber molecules (left chart) reduces heat generation, which in turn reduces energy loss from tires to control rolling resistance.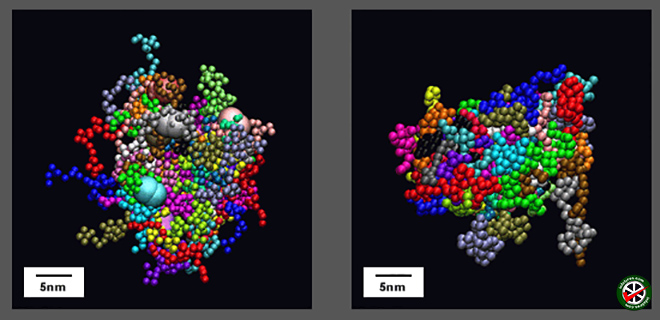 FEM simulation for filler-containing rubber compositions
Friction between rubber materials is controlled by promoting their dispersion. Red color shows concentration of strain (deformation), and it was discovered that in the new rubber blend material deformation takes place more uniformly, indicating a smaller energy loss.
Nano-level material design: Combining best materials
Designing optimal rubber blends using the best materials identified through nano-level analysis, prediction and testing.
Filler dispersion
Aggregation of fillers (rubber reinforcing agents such as carbon black and silica) causes imbalances between the movements of fillers and rubber molecules. Good filler dispersion balances rubber and filler better to minimize energy losses.
Nano-level production: Maximizing performance
Producing an optimum rubber blend of the materials designed at nano level through our proprietary nano-level blending technique ensures uniform polymer dispersion.
Toyo Tires' unique approach of molecular-level analyzing rubber materials ushered in a new stage of tire development. As Nano Balance Technology adds chemical perspectives to conventional physical processes, the technological ability to precisely reproduce simulated performance is critical. Our new NANOENERGY fuel-efficient tire is a direct result of this innovative technology.