Four days long, Essen will become the capital of the international tyre sector: From May 24 to 27, REIFEN 2016 will not only entice the 20 largest tyre manufacturers in the world into the halls at Messe Essen but renowned wheel rim
manufacturers, garage equipment suppliers, specialists for retreading and dealers will also increasingly rush to the performance show which has been developed together with the sector for decades. Uniwheels, Ronal, BBS and Momo are examples of well-known wheel rim manufacturers which will present themselves at the international trade fair. The wholesale tyre trade will be represented with Interpneu, Heuver, Deldo and Inter-Sprint.
In the retreading segment, VMI, Galgo Pre-Q nv, B&J Rocket Sales AG, Elgi Rubber and Matteuzzi will await the visitors to the fair. And garage equipment suppliers such as Bosch, REMA TIP TOP, ASE Corghi and Snap-on will also show their products and services. All in all, the interest of the exhibitors has risen considerably. The popularity amongst the tyre manufacturers alone is so great that Messe Essen has, for the first time, reserved and booked exclusively for them two halls with 22,000 square metres in total – and thus no less than a third of the entire exhibition area. The in ternational demand is growing noticeably, too: In 2016, 75 percent of the exhibitors will probably travel to Essen from abroad.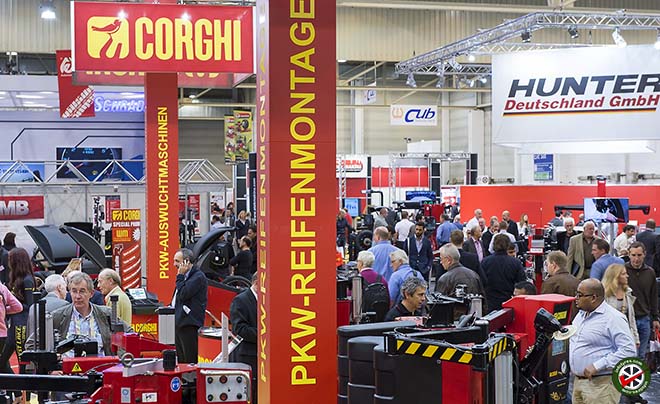 Visitor Marketing is in Full Swing In order to bring the supply and the demand together in a perfectly matching way, not only the worldwide exhibitor marketing but also, since recently, the visitor marketing have been in full swing. This includes worldwide direct mailing activities, advertisement campaigns in all the national and international trade media, online advertising as well as maintaining intensive contacts to associations and other multipliers. In this respect, the makers of REIFEN and their partners are profiting from their decades of know – how and the trust of the tyre sector. On the visitor side, Messe Essen is expecting around 20,000 decision takers from 130 nations.